2-Day Birch Bark Basket – Making Workshop
ENROLL NOW!!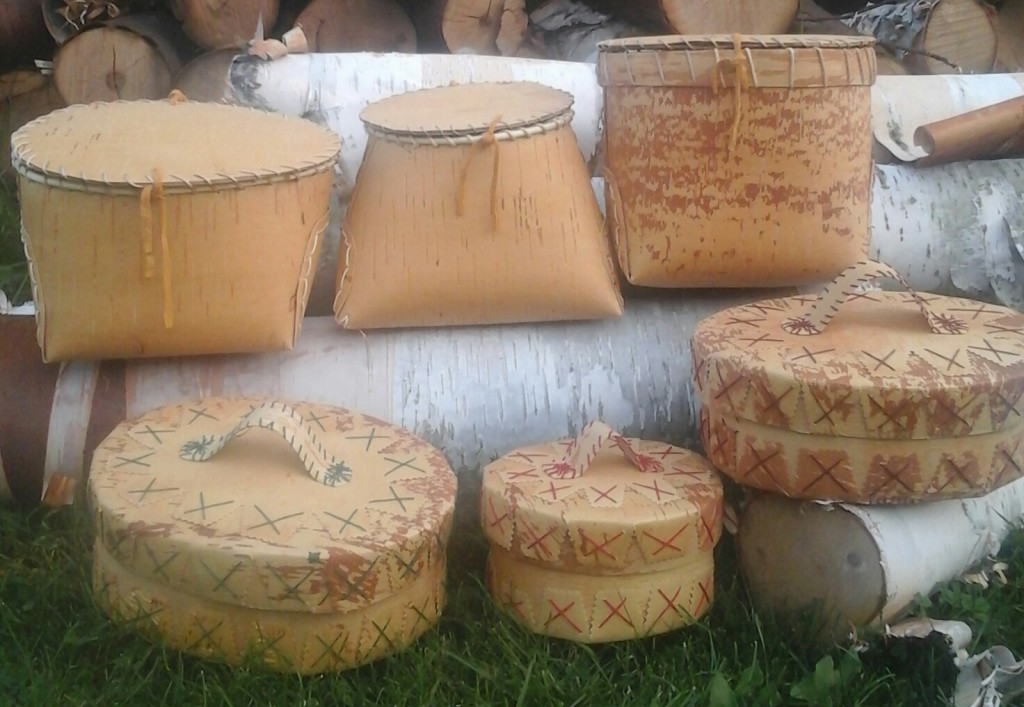 Description:
Learn the art of basketry in our 2-day workshop. We offer you the experience of identifying birch bark trees, how to cut the trees bark to use and teaching you the skills to harvest the bark yourself to make it into baskets! We'll cover the basics of basket-making, which is one of the most fundamental techniques practiced by Cree First Nations people. By the end of the workshop you will be able to create two styles of Birch Bark Baskets for yourself or gifts for others .You'll leave with a whole new appreciation for both the basketry skills of our ancestors and the generosity of our local forest.
This beginner level workshop will cover the following:
Basics fundamentals of basket-making.
Identification of Birch Bark Trees suitable for basket-making in your local bio-region
Hands on practice of making a small basket to take home
Discussion of how to process and store basket-making materials after harvesting
Discussion of pre-historic and historic basketry techniques using Spruce Root
Discussion of contemporary basket technology using Thread/cord or sinew, etc.
Participants will also be able to take home the project they finish in the workshop.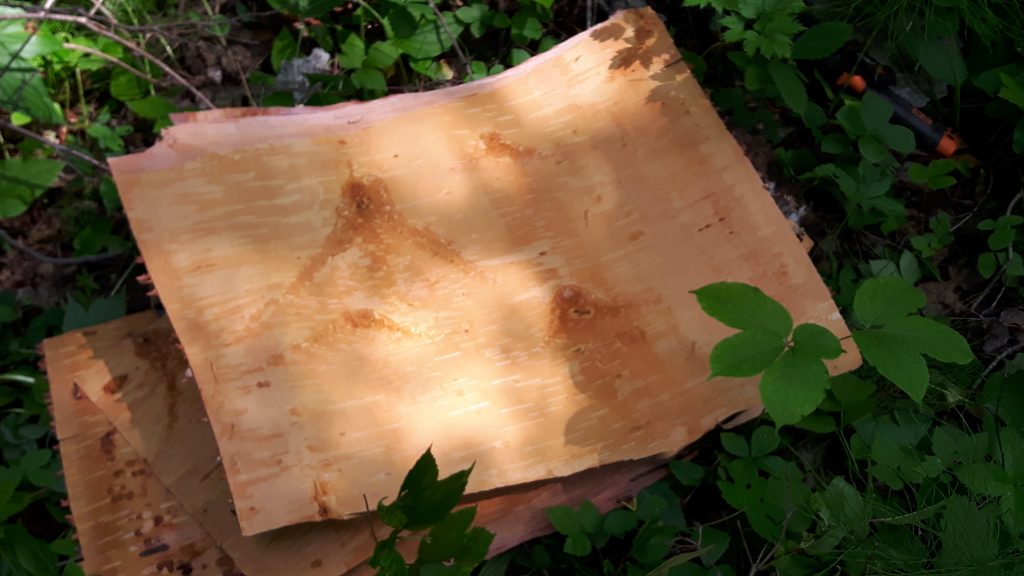 TIME: BOOK your weekend today!
Enroll in our weekend workshop running from May – early July 2018. The best time to harvest the birch bark is in the spring time or early summer when the sap is running. This will allow the bark to be removed easier and not damage the tree. Only the top layer of the bark is taken off of the tree. The brown under layer is left. Our practice has been to use the entire tree so we cut down the tree and use all the bark, and cut up what is not used for fire wood.

COST: $250.00 per person (minimum 10) Accommodation and Travel Expenses not included, and must be provided by the Host.

All supplies are provided. We need a guarantee of at least 10 participants. This is our minimum for us to agree to facilitate a workshop. The maximum amount of people we can accommodate and teach is 20-25 people. Too large of a group prevents us from fully supporting, teaching and helping the participants that attend.  The cost for this 2-day workshop is $250.00/per person.
Also, a 30% deposit is required to book us, with the remaining cost due at the time of the workshop. This amount is non-refundable and applies even with cancellations.
About the Instructor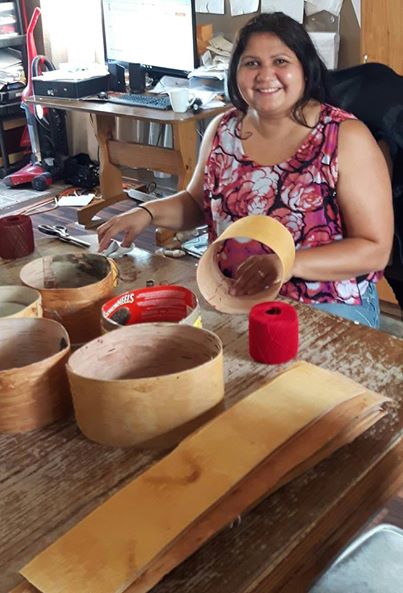 I am currently a half-time Art Teacher and me and my husband own Cree Star Gifts.  I also make Star blankets and Bags, but my first love is basket-making.  My grandparents Joe and Hazel Stevens settled along the Red Deer River, which is approximately 1 hour north of Swan River Manitoba in the late 1960's. They chose this area of land, because it was located near our reserve, and it was also my grandfather's trap-line.  It was my grandmother, Hazel Stevens, who started making Birch Bark Baskets, she taught my mother, aunts, uncles and cousins.  My grandmother eventually taught me and therefore, basket making has been in my family for at least three generations. Both my grandparents were Swampy Cree people. Traditionally, Cree people in this area were known for using birch bark to make much needed tools. Because of my grandmother this rich tradition has been passed down to my family and I .
CONTEMPORARY Baskets made with Thread:
Each basket is sewn together with Crochet Thread in various colors, (usually Red, Burgundy, Yellow, Green). They range in size from Extra-Large, Large, Medium and Small. Each Basket is also lined with Colored Cloth, which compliments the Thread color. One basket can take up to 3-4 hours to create. The star pattern on top of the basket was what inspired me to call them "star baskets" and have been incorporated into our business name and logo. It is not clear why my grandmother started to put these patterns on the baskets, but regardless they are a beautiful aspect of the basket itself.
THE PURPOSE AND USE
First Nations' people buy them as gifts for Elders, honored guests and/or valued members of the community. They can be given to anyone for any purpose. Each basket can be filled with significant items, or they can be given as is.
TRADITIONAL BASKETS
They are sewn together with Spruce Roots. Birch bark baskets have been used for hundreds of years for a number of different applications. Traditionally they were used for carrying food, water and storage. Birch bark is a surprisingly durable material. Natural oils in the bark make the bark water proof, however you would have to water proof the sewn seam after the basket is made for your basket to be also water proof. This can be done by melting down spruce gum and applying it on to the seam.
Once the birch bark is collected it needs to be prepared. There is a brown/reddish residue on the backside of the bark that needs to be scrapped off. Also much of the top layers of the bark need to be peeled off (white/black top part of the bark). Next the bark is flattened by being pressed between two pieces of ply wood. The sooner the basket is formed after taking the bark off the tree, the easier the bark will bend. The design (template) is then traced onto the back of the birch bark using a pencil. Scissors or a sharp knife is used to cut the pattern. The basket is then bent into its template shape and sewn with the roots using an awl.
CREE STAR GIFTS 
www.creestargifts.com

Box 173
Swan River, MB.  R0L 1Z0
204-734-2116
email us at creestargifts@hotmail.com or find us
on FACEBOOK: Cree Star Gifts or Corinne-John Belanger